Great Barrier Reef's condition declined from moderate to poor in 2011 | Environment | guardian.co.uk.
Series of reports blames extreme weather conditions and high rainfall for reef's poor health
Great Barrier Reef's condition declined from moderate to poor in 2011
Series of reports blames extreme weather conditions and high rainfall for reef's poor health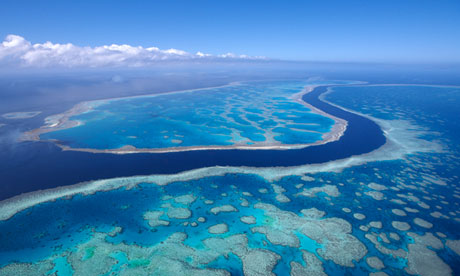 An alarming set of reports on the condition of the Great Barrier Reef published on Wednesday say its overall condition in 2011 declined from moderate to poor, and highlights that reef-wide coral cover has declined by 50% since 1985.
The series of reports blame part of the reef's poor health in 2011 on extreme weather conditions including tropical cyclone Yasi, and high rainfall which resulted in "higher than average discharge" from a number of river catchments runoffs.
The Great Barrier Reef report card of 2011 said: "These extreme weather events significantly impacted the overall condition of the marine environment which declined from moderate to poor overall in 2010–2011."
The report card also examines the water quality of the region, and showed that the majority of land managers within the Great Barrier Reef region had failed to reach their reef plan targets, aimed at reducing sediment and pesticide loads which are harmful to water quality.
"Thirty four per cent of sugarcane growers, 17% of graziers and 25% of horticulture producers adopted improved management practices by June 2011," the report said.
These reef plan targets are described as "ambitious" and include targets to halve nutrient and pesticide loads by 2013 and to reduce sediment by 20% by 2020. Despite this, the report observes "major positive change" in land management within the region.
The 2013 scientific consensus statement, released at the same time as the report card, concluded that coral cover of inshore reefs had declined by 34% since 2005.
The new environment minister Mark Butler said: "In spite of solid improvement, data tells us that poor water quality is continuing to have a detrimental effect on reef health.
"To secure the resilience of the Great Barrier Reef it is critical that we build on the momentum of the previous reef plan with a focus on improving water quality and land management practices through ambitious but achievable targets."
The federal and Queensland state environment ministers announced that they would invest a total of $375 million between 2013 and 2018 under a new Reef Water Quality Protection Plan, designed "to guide initiatives to ensure that runoff from agriculture has no detrimental impact on the health and resilience of the Great Barrier Reef".
The Queensland minister for environment, Andrew Powell, praised those landholders in the region who were improving their practise. "We are working closely with industry, landholders, natural resource management bodies and community groups to accelerate the uptake of practices that maximise reef water quality while maintaining and enhancing profitability and environmental performance," he said.
But Greenpeace spokeswoman Georgina Woods was critical of the bi-annual meeting between the two ministers. She said neither minister had engaged with the key issue of coal export and mining within the region, particularly at a controversial new dredging proposal at the Abbot Point coal terminal.
"One day after the new environment and climate change minister deferred a crucial decision on the future of Abbot Point, the Great Barrier Reef Ministerial Forum has failed to tackle the problems that every Australian knows are eating away at the Great Barrier Reef: global warming and ocean acidification. Hopefully, today's missed opportunity is just a dress rehearsal for the main event in August, when the new minister will be called upon to choose between safeguarding the Great Barrier Reef and letting the coal industry dredge, dump and develop Abbot Point.
"It is pretty clear that the Queensland government is not going to stand up to the coal industry and protect the reef in the interests of the broader community and future generations. Mark Butler now has 30 days to make a decision about Abbot Point. To safeguard the Reef and fulfill his climate change brief, he has no choice: he must say 'no' to the coal industry," Woods added.